contact
In his experience all rooms possessed a tone of some kind and he tried now to pick something out of the air, to isolate a measured breath or two, a warp in the monumental calm. (D. Delillo)

Released January 10, 2020

Recorded 21 July 2014, 13 September 2014, 31 March 2016.

With the support of Workspace Brussels, Buda Kortrijk, Kunst/Werk VZW, ABC RN Soundproof and the Flemish Authorities.

Thanks to Katrina Lui, Miyuki Jokiranta, Sydney Opera House, Elly Gabriels, Amber Ma.
Vortex was commissioned by the Hong Kong Arts Festival and was created in close collaboration with choreographer Wayson Poon for his dance piece of the same title.

Released February 13, 2019

Recorded & produced November 2017-February 2018
Mastered by 43'33"/Tim Bruniges
If an evening walk in Prague were ever to take you from Spálená Street to Opatovická Street through the passageway around what used to be Vilímkovo nakladatelství Publishing, you might notice a loud and rising drone, apparently coming from an unhappy fluorescent tube on the ceiling. In this case it's quite easy to link the unfamiliar noise to its possible source. At other times, mysterious emitters and replicators of sound generated, for example, by electrical wiring, water mains, the drainage system, air conditioning, the wind or restless neighbours are hidden somewhere, and thus harder to identify. The origins of the universe of microscopic, unidentifiable sounds in architecture is not always necessarily physical; under certain circumstances they even appear metaphysical or paranormal.
   The largest organ in the world is said to be found in Sydney, in the concert hall of what is probably the most famous piece of architecture dedicated to music in the 20th century. A tender in the late 1950s was won by Danish architect Jørn Oberg Utzon. In the course of preparing the construction, the relationship between Utzon and the investor became quite strained, and the architect eventually left Australia to return home to Europe. The local councillors and the ministry involved found a replacement in Peter Hall, who successfully brought the construction to its conclusion 15 years later, in 1973. The building was formally opened by Queen Elizabeth II. The Sydney Opera House is famous for its extravagant, seashell-like roof, but the mysterious sounds heard in the interiors of the giant structure when no musical ensemble is performing are less well-known. The reason might well be that they are mostly heard at night when the building is empty. One might recall the romantic plot of Le Fantôme de l'Opéra, but there is no lovelorn musical genius to grace the case of Sydney .
   The Belgian sound artist Peter Lenaerts travelled from Brussels to Sydney to record a documentary involving audio research into the opera house for the "Soundproof" programme on ABC Radio . He discovered that every room, from the rehearsing room, the staircase and shower to the main concert hall had an unmistakable acoustic manifestation. Listening through the headphones connected to a recorder, he disclosed that some rooms resonated at a single frequency, and others even in harmonious chords. Apparently, the main concert hall sounds a note in pure A; musicians could base the tuning of their instruments on it.
   Lenaerts's research resulted in the finding that the iconic ferro-concrete building was not as mute and audio-neutral as one might expect. When there is nobody inside at night, the opera house starts to live its own life, like some organism giving off an array of cracking, humming, buzzing, rustling, whistling, whirring, ringing, knocking, spluttering, screeching and trembling noises. As part of his radio documentary, Lenaerts interviewed several people working in the opera house, and arrived at a psycho-acoustic model, an "auditory portrait" of the building. He found a tension, almost a contradiction between the visual and acoustic aspects of the Sydney Opera House. The monumental, tectonically and constructionally sophisticated architecture speaks a diverse, multi-faceted, whispering dialect. For that matter, every construction, every building has a similar hidden audio manifestation – not only the historical ones or those with timber frames but also straightforward stone or concrete houses, and not necessarily in areas of high volcanic activity.
   Peter Lenaerts works to reveal everything that hides beneath silence and the seeming absence of sound, or beyond emptiness. His recordings from the interiors of abandoned buildings were issued by Very Quiet Records (field recordings of quiet places; the owner of the Devon-based label is Tony Whitehead, who shares Lenaerts's interest in micro-sounds). Among his remarkable pieces is a static portrait of the Serbian Orthodox church of Prophet Elijah. Lenaerts recorded this in 2011 during an expedition to track silence and emptiness in the deserts of southern Australia and its Northern Territory. The location, Coober Pedy, lies 847 kilometres from Adelaide and 2088 kilometres from Sydney. Since the place is extremely hot, it is hardly a popular tourist destination. The small town, situated around 10 kilometres from the church, has a few hundred inhabitants, probably of a non-orthodox persuasion.
   Lenaerts originally intended to capture the sound of silence in the church interior, but his headphones were largely occupied by the low frequencies generated by gusts of wind hitting the walls outside. He thus decided to improvise with detailed micro-sounds; he lit two candles and placed a Rode NT4 stereo-microphone between them. The recording lasts almost four hours and has not been modified in post-production. If you have time and patience, you can picture yourself in an abandoned church in the New South Wales, listen to the candles burning, and also experience a number of surprises during the session. Some might remember Jacob Kierkegaard's recordings from the interiors of houses in Pripjať, near Chernobyl, or a Bruce Nauman video capturing his empty studio in the night.
   The Quies video-documentary charts a quest for emptiness, not silence. While watching it, you witness the sound artist's constant struggle with the wind and technology.
   In recent years Lenaerts has also travelled to China. He stayed for a while in a newly-established city in Nancha Province. The city was planned for a million people, but hardly a quarter of that number have lived there to date, so the metropolis is strangely empty. As human acoustics there are, logically enough, somewhat subdued, the sounds of the non-human urban structure prevail, even during the day,
   Apart from travelling, Lenaerts has been performing, in the last couple of years for sleeping listeners, which is a popular trend that has also taken root in Prague recently. He refers to his concept as MicroSleepDub, and the musician, acting as a human soporific agent, uses specific acoustic nuances intended to put the listeners to sleep as quickly as possible.
- MILOŠ VOJTĚCHOVSKÝ
- https://www.hisvoice.cz/sydney-microsleepdub-a-dalsi/
Sound artist Peter Lenaerts has been obsessed with empty spaces for years. In December 2011 he travelled along the Oodnadatta Track in Australia's arid and desolate center in pursuit of the emptiness and nothingness he'd experienced there the year before. Filmmaker Ezra Eeman travelled along and captured Peter's struggles with wind, and flies, and his ultimate failure at recording silence. For silence can not be recorded, or can it? And if it could, it can not be replayed. Or can it?

THIS IS A VERY QUIET FILM. HEADPHONES OR PROPER SPEAKERS AND A QUIET LISTENING ENVIRONMENT ARE HIGHLY RECOMMENDED.

CREDITS
Dance Connection vzw presents: a project by Ezra Eeman and Peter Lenaerts
Director: Ezra Eeman | Artist: Peter Lenaerts | Editor: Guillaume Graux Sound | Mix: Sen Jan Janssen
Funded by VAF and Workspace Brussels
Dear Miyuki, 

I'm sending you this postcard from 非場所. 

15 years ago it was rural farmland, now it's a rapidly developing new city with high rise apartments, office buildings, shopping malls, hotels, and a dilapidated entertainment park. Most of these are still empty though. It's a city built for 1 million but the current population is around 300,000. It's not a ghost town—no one has left—but not enough people have arrived yet either, which makes it feel rather eerie. 
This place is not exactly a tourist destination. 
I don't speak the language. Kids stare at me. 
I'm gonna start recording now.
I'll send another report soon. 

Peter

Field Reports From 非場所 was commissioned by ABC RN's Soundproof.

There's a ghost (or two) at the Sydney Opera House. It lurks in the halls and ceilings, and calls out ever so quietly that you don't hear it unless you're all alone in the building, late at night or in the small hours of the morning. In the Concert Hall it hums an A perfect enough to tune an orchestra to. In the Joan Sutherland Theatre, it shrieks in discord.

Where do these sounds come from? What produces them? And do they in their turn produce the stories and myths?

We are a visual species, often unaware of the impact of small, invisible sounds on our moods and behaviour.

The Sydney Opera House is famous for its looks and infamous for its sound(s). 
Architecture is still a mostly visual medium, even though no building is ever quiet. From their structure and infrastructure to their surroundings, buildings hum, drone, whistle, shriek and hiss.

Phantom Opera is an exploration of the sounds of the Sydney Opera House—with a particular focus on the quiet and the acousmatic - and a search for the reasons, origins and stories behind these sounds.

Phantom Opera was commissioned by ABC RN's Soundproof.
http://www.abc.net.au/radionational/programs/soundproof/phantom-opera/7526220
Audio portrait by Lucas Derycke in the context of the Radio Festival at Buda Kortrijk, February 2015
An experimental festival implies an experimental audience, and a test of this also came on the second night with Belgian artist Peter Lenaerts' MicroSleepDub – a sleep performance between 12am and 8am in the Østre venue.
Upstairs, we were invited to occupy one of the 17 beds on the floor. Attractive red and white blankets and pillows were made up on slim, comfortable mattresses. The mattresses themselves were spread out in no particular design, within arms-length of each other. Some came in twos and threes, wore pyjamas and carried toiletry kits. I selected a spot in the corner of the room and lay down in the clothes I had been wearing all day.
Just past midnight, Lenaerts dimmed the lights and began describing the dimensions of the room, counting, number by number, its length, width and depth. Before he finished I was asleep. Throughout the night, I woke up regularly to hear a variety of sounds, from scratching noises to the sounds of empty buildings, all provided by Lenaerts, collected from his travels everywhere from Nansha in China to Sydney Opera House, where he recorded empty concert spaces. The mood was peaceful and comforting, not only because of the sounds, but perhaps because of the intimate, communal nature of the event. It somehow suggested acceptance, openness. It had not been my intention to stay the whole night, but the black-out curtains on the windows were pulled down at 8.45am and I was still there. As I left, I noticed two women had, during the night, pulled their mattresses together and now lay in an embrace.
I sat with various participants outside, on a thin, cobbled street on garden chairs, and drank coffee and ate cartons of porridge. Someone asked me about my dreams, but I didn't think that was the most significant thing about the work, and couldn't remember them in any case. Yet I felt strangely refreshed, elated even. Lenaerts' concern is sound, but his amalgam of sounds, sleep and community created something much more. We know listening as a group is powerful, but are we even more receptive to sound and music when we are asleep?
That afternoon, as I listened to Tomoko Sauvage's flow, an installation involving blocks of ice dripping from the ceiling into amplified bowls, creating a magnificent counterpoint, I knew my senses were particularly alert to the experience because of MicroSleepDub.
- Toner Quinn
- http://journalofmusic.com/focus/end-and-beginning-experimental-music-festival
| | |
| --- | --- |
| | |
| | |
| | © Peter Lenaerts & Henrik Beck |
My only two days at the festival had to be spent efficiently and luckily I got to use the nightime as well with a sleep performance by the Belgian sound artist Peter Lenaerts. The instructions were to meet up at midnight and bring a pyjama and toothbrush. The place was again 'Østre', now transformed into a dormitory with 27 beds located at a safe distance from each other. The program consisted of Lenaerts' field recordings from two places: a newly established city in southern China, which was intended for a million people, but only inhabited by a minority, and night recordings from the Sydney Opera House. These recordings were re-recorded onto dub plates: LPs without a protective layer. Because of this, according to Lenaerts, they will wear out with each play and become noisy, so that every performance gets embedded in the next one.
The performance was introduced by Lenaerts himself, and in the first hour he read us some kind of bedtimes stories while playing field recordings. He described a room which I thought at first was the one we were in, but then became a mixture of descriptions of the places where the footage was from. Some of these were very surreal. After that, the lights were dimmed and the night really began. The concert experience happened through a combination of slumber and light sleep, between drowsiness and extremely clear listening.
At one point I was awoken by the silence, because there was a small pause in the soundscape, another time by an airplane that flew close-by over my head and a third time because one of the other guests was snoring. When I was awoken by the silence, it hit me how much I missed the soundscape I had fallen asleep to. I only fell asleep again when I heard the LPs crackling and some Chinese men discussing something or other off in the distance. Time and space were dissolved and I belonged to a world created by Lenaerts' sounds.
- Sanne Krogh Groth
- http://seismograf.org/artikel/borealis
| | |
| --- | --- |
| | |
| | |
| | © Peter Lenaerts, Nansha, 2014 |
MicroSleepDub
a durational sleep performance by Peter Lenaerts
2015, 480min


The sleep performance MicroSleepDub is about micro sound, architecture and urbanism. It's a durational performance built around a sound composition for dub plates.

In MicroSleepDub, Belgian artist Peter Lenaerts listens and looks for sounds that are too quiet, too vague, or too low. By using the microphone as a microscope, he zooms in and amplifies these neglected, underexposed and discarded sounds. MicroSleepDub is an all night performance, where listening and sleeping are both encouraged.

Peter Lenaerts spent a week recording in Nansha, a so-called StateLevel New Area in China. 15 years ago it was rural farmland, now it's a rapidly developing city with high-rise apartments, office buildings, shopping malls, hotels, and a dilapidated entertainment park. It's a city built for 1 million, but the current population is around 300,000. Nansha is not a ghost town, because no one left, but not many people have arrived yet, giving the city an eerie and empty feeling. Nansha is caught between a rural past and high-tech future, the present that lies in between is out of sync with reality, and already slowly but surely falling apart.

Lenaerts also collected sounds during two nights alone at the iconic Sydney Opera House where he recorded its empty theater spaces, rehearsal and dressing rooms, and concert hall.

With these recordings, Lenaerts will create a live soundtrack for 4 dub plates – LPs without a protective layer causing the groove to wear itself out and making the sound disintegrate over time.

MicroSleepDub starts at midnight and ends at 8am, and you are invited to come, listen, and fall asleep. Mattresses and sheets will be provided. Lenaerts will read you bedtime stories about new cities and empty buildings and lull you to sleep with the sound of empty rooms.
Please bring anything to make your sleepover comfortable (clothes, cushion, toiletries, etc.).

At the end of the performance, a small breakfast will be provided.


Credits
Concept, sounds, words & images by Peter Lenaerts Light design by Salva Sanchis
Supported by Workspace Brussels, Buda Kortrijk, Kunst/Werk VZW and the Flemish Authorities.
Many thanks to Els Silvrants-Barclay, The Institute for Provocation (Beijing), Guangzhou Nansha Pearl River World Trade Center, Eddie Yi, Rocky Luo, Doreen Liu, Katrina Lui, Sydney Opera House, Beursschouwburg, Vincent Tetaert, Zsenne Artlab, David Helbich, Manon Santkin, Elly Gabriels, Amber Ma.

MicroSleepDub premiered at the Radio Festival in Buda, Kortrijk, February 27, 2015.
The Middle Ages is a performance for five dancers about a time which is inherently 'middle'- ambiguous, fluid, either both-and or neither-nor. Through an (over-the-top) use of costumes and a rigorous investment in movement, the performance attempts to occupy an ambiguous place and time, where historical references overlap and fold over one another. The performers' time-travel through the history of movement becomes increasingly layered and abstracted, while the speed of the performance, or rather, time in general becomes warped. Actions and events are compressed and stretched by the performers, lending an uncertainty to the time which the performance speaks of and the timing in which it occurs. Drawing on sources as far-fetched as time travel, historical costume dramas and reenactments, and the theoretical physics of the uncertainty of time itself, The Middle Ages asks, not what are we, but when are we? When is now?

CREDITS
Concept & Choreography: Andros Zins-Browne
Created and performed by: Dragana Bulut, Kennis Hawkins, Jaime Llopis, Sandy Williams, and Tiran Willemse
Soundtrack: Peter Lenaerts & Andros Zins-Browne | Lute and Theorbo played by Sofie Vanden Eynden recorded and mixed by Peter Lenaerts at Low Man's Land Studios, Brussels | Light design: Nick Symons | Costumes: Sofie Durnez | Assistant costumes: Valerie Le Roy | Production Manager: Elisa Demarré
Production: Hiros | Coproduction: Kaaitheater (Brussels), Buda (Kortrijk), MDT (Stockholm), PACT Zollverein (Essen), HAU (Berlin) | Coproduced by Vooruit in the frame of the European Network DNA (Departures and Arrivals). | Co-funded by the Creative Europe Program of the European Union. | In collaboration with: Departs, Stuk (Leuven), Netwerk (Aalst), wp Zimmer (Antwerp), Les Ballets C de la B (Ghent) | With the support of: The Flemish Government
Clara lives the life of a typical 15 year-old: school, family, boys, friends, and the usual teenage frivolity. But a strange sense of physical discomfort seeps into her daily life, until she is forced to do something radical. 

CREDITS
Directed by Arnaud Dufeys
Belgium, 2014, HD
With Sophie Breyer, Théo Dardenne, Salomé Dewaels, Alexandra Eich, Bruno Georis, Vincent Lecuyer, Elise Merckx, Anaïs Moreau, Manuela Servais, Mathilde Warnier, Yoann Zimmer
Music Peter Lenaerts | Editing Denis Leborgne | Photography Rémy Barbot | Sound editor Aurélien Lebourg
© Giannina Urmeneta Ottiker
Questions, A Lecture-Performance, by Peter Lenaerts
Brigittines, Wednesday June 11, 8 pm



Is there a difference between a photographer wearing glasses and a musician wearing a hearing aid?
Why can we sit down to read a book but need to move around while listening to music?
Why can we sit through a 2 hour film but have a hard time focusing on half an hour of listening?
What's the first sound we hear before we've even been born? 
What's the last sound we hear before we croak?
Is seeing objective and hearing subjective? 
Or is it the other way around?
And why did Marcel Duchamp rewrite his famous quote from 1914 "One can look at seeing, one can't hear hearing" as a question "One can see looking. Can one hear listening, smell smelling, etc…?" in 1948?

Most of us are surrounded by sound all of the time. Some of it we hear, some of it we chose to ignore, most of it passes us by unnoticed. It is there, but we don't hear it until we decide to listen to it.
Listening is almost always an active act, a choice. Most of us don't do it very often, especially not when there's nothing to see. And yet we are surrounded by sound all the time, in life and in art. You cannot turn off sound, it's always there. 
So why aren't we listening?

Peter Lenaerts is fascinated by empty spaces and invisible sound. Sound that doesn't scream for attention but sneaks into the listener's ear unnoticed. Sound without ego, pure sound. For his last work Quies, he travelled through the Australian desert on an ironic and absurd quest for quiet. The result can be experienced as an album of recordings, a documentary film, an installation and a performance. Apart from his own work, he has created sound and music scores for choreographers, filmmakers and visual artists including Mette Ingvartsen, Andros Zinsbrowne, Salva Sanchis, Tom Heene. Peter Lenaerts strongly believes that in a culture dominated by visuals, nothing is as powerful, intense, and rewarding as closing your eyes and simply listening.

Peter Lenaerts is currently working on MicroSleepDub, a recording project and durational sleep performance about microsound, architecture and urbanism. He will present a first try out on Friday 13 June at the Workspace Brussels Studio Sessions in Brigittines.

http://www.overtoon.org/
A conversation with Peter Lenaerts
by Chris Whitehead
By his own admission Peter Lenaerts has been obsessed by silence for years. He sees it as the space in which sound happens. Silence is also a space in which questions spontaneously germinate: Where should we go to find it? How will we know it if we do? How can we collect it and show it to others? Does it even exist at all?
So a project doomed to failure, but a failure of great interest and endeavour. I wanted to ask Peter about his attempts to home in on his elusive target and how he thought his recordings mirrored the ongoing search.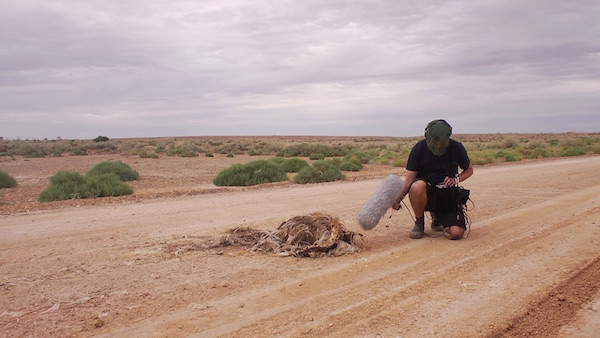 INTERIORS AND EXTERIORS
In Private Rooms (Surfacenoise Recordings SN06) small, interior resonances are examined from within small cubicles which are themselves within buildings, whereas Quies (Very Quiet Records VQR004) is a document of the vast space at the heart of Australia, austere and boundless. Are both approaches a search for the same grain of truth?
P.L.  The original desire was the same with both. The reality turned out differently, to record space and air.
CW: Why did you want to record space and air?
P.L. There are several reasons, but it's summed up best by what  I wrote for an application when I first started Quies:
"I want to work on silence. And absence. And nothing. The lack of. Just space. And air. That moment when the last note has rung, the last line has been delivered, the last movement has been executed. Just before the audience breaks out in applause or boos. That moment of anticipation. Of holding your breath. Your senses, exalted and wired. All ears. That moment. Exactly that moment.
What do we hear when there's nothing to listen to?
What do we listen to when there's nothing to hear?"
Or to put it differently, I wanted to focus on the flipside, if you will.
CW: 'That moment when the last note has rung', how long can that moment be extended? Some of the tracks are quite long.
PL: To compare it to music, when writing a melody you can focus on the actual notes, or you can focus on the space between the notes. The thing is that Quies is a recording project, not a composition project. So the moment cannot be extended by me, I just have to accept what I encounter. In the case of Private Rooms, some of the recordings sounded very quiet to my ears, but less so to microphones.
CW: Is that because we listen differently when playing back what we've recorded, as opposed to what we hear at the time through naked ears?
PL: There's a big difference I think yes. In the first case, we are embedded in reality, soaking it up. In the second case, we are listening to a recording, through headphones, or speakers. Everything is different, the intention most of all.
CW: I think our other senses are also soaking up the environment when we're in it, but when listening later we solely rely on our ears. Would you agree? I'm thinking of your recommendation to listen through headphones in a quiet place.
PL: From many to just one of the senses? Yes, that's a good way of putting it. Especially in the case of a recording like Quies, you won't hear much if you don't listen with headphones, and even then…
CW: There is a lot once your ears become accustomed. I imagine a very low horizon and a huge sky.
PL: I agree that there is a lot, and I'm happy at least someone has taken the time to create the right circumstances and listen.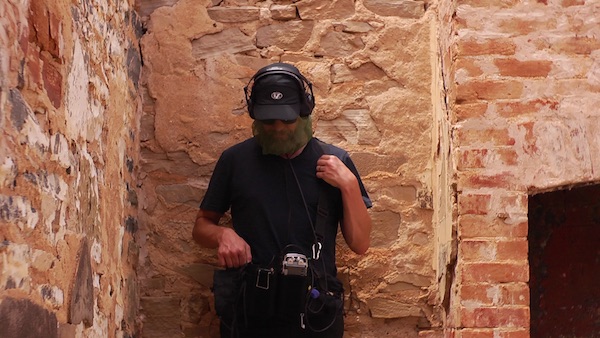 SOUNDS AND IMAGES
The process of making Quies was filmed by Ezra Eeman who travelled into the interior of Australia with Peter. These images, together with a spoken word text, are designed to be shown as part of a multimedia presentation of Quies.
Taking its coordinates from Peter's methods and aesthetics, Ezra Eeman's film uses detail and texture to physically mirror the fluctuations in tone and ambience that occur in Quies. The film is crystaline, dry and unobtrusive. I first saw it  after I had been well acquainted with the soundworld of Quies for some time.
PL: Did the film help or hinder you? I mean, the images.
CW: It helped I guess. It is made with great understanding of your style. I noticed there were several examinations of textures and objects in the film: Driving through the outback, the salt lake, stones at night, a towel on a bed in a hotel room, an illuminated Santa etc. These made the film whole for me.
PL: That's good to hear. I'm asking because quite often it's the other way round. Especially in the performance I made, most people get so taken in  by the sound that when the image arrives they find it intrusive. Some even keep their eyes closed and listen.
CW: Interesting. I think the film is not really a depiction of the soundtrack in this case. It's about your methods and ideas. A companion piece to the recordings.
PL: I think so too, yes. The Quies performance is like a theatre performance. It's part text, part sound piece, and then the film. So it's not a concert-performance, if you know what I mean.

CW: How does the text fit in?
PL: The performance starts with a text about failure. It's about setting a tone for me, creating an environment in which people feel comfortable and invited, setting a mood if you want. While I talk, the lights fade to black so that we're plunged in darkness by the end of the text. Then the sound takes over.
CW: Did making Stills + Postcards from the Centre, your first journey into this empty continent (Surfacenoise Recordings SN01), lead to Quies? Did it concentrate your thoughts?
PL: Oh, it very much did yes. With Postcards, there was mostly desire and intuition, and just the craziness of flying and driving into a very remote area in the height of summer all by myself. Quies then was a proper project, with proper funding, and concepts, and thinking and research etc. It was also to some extent a collaboration with the filmmaker Ezra Eeman of course.
Recording all alone is very different from having  someone near, especially when they're filming you.
CW: Was the film maker there all the time? Luckily he seems to have kept nice and quiet.
PL: Well he was to some extent. I think Quies would have been completely different if I had gone out there all alone. His presence was impossible to ignore, but once that was established, I worked with it, or around it.
CW: It was worth it because it left us with a contextualizing document. I like that.
PL: Oh yes, absolutely, and it made me learn a lot.
CW: In Postcards there is a rather disturbing story on the radio about bullying at work. I found that a bit jarring.
PL: The thing is that I am someone who needs or wants clear concepts and ideas when I plan new work. A discourse, if you like. But then when you plunge yourself into the work, I also need to let go of what I thought. And let the reality sink in, and take over. Postcards, is first of all a documentary for me, and that's why all the stories are there.
It's a harsh country, Chris.
CW: Why did you choose that country
PL: It chose me. I met one of its inhabitants in Brussels and followed her out there.
CW: Was it in Australia that you came closest to recording silence and air? To achieving your aim? The closest to non-failure?
PL: Yes it was, in a motel room in Coober Pedy. It's a dug out, like many houses in Coober Pedy. It gets so hot there, that people live ( partly ) underground. When I woke up there the first morning on my Postcards trip, there was just nothing.
CW: What did your brain do?
PL: Freak out
CW: As a species we cope poorly with low input don't we?
PL: Our brain is hardwired for sound. It will always try to hear something. That Cage in the anechoic chamber story? I had that in an underground church in Coober Pedy. Very troubling.
CW: So why carry on the search outdoors?
PL: Because the search for quiet is not the end game. It's about listening for nothing, indoor, outdoor, everywhere.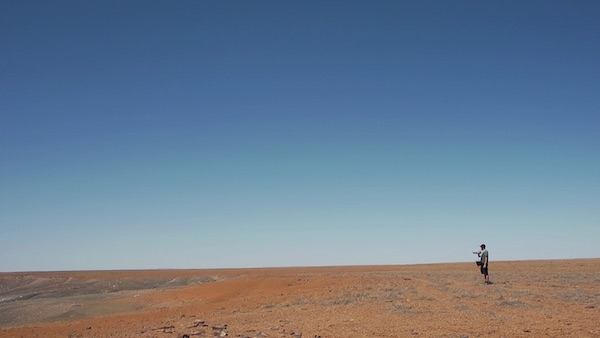 ARCHITECTURE AND MORALITY
CW: What will you do next?
PL: Micro(scopic) sound and architecture. I'm starting a new project where I want to listen to buildings and cities. Especially new cities. It begins from this question: How do you built a city and a building, and how do you take sound into account?
CW: Are you an artist, a researcher, a documentarist, or don't these tags matter?
PL: They matter to some extent. But in my very personal opinion, there's no artist without research or documentation – it all ties in together.
CW: What effect does the sound in cities have on the inhabitants at the moment, and how could it be optimised? Is that a valid question?
PL: It's a very broad question Chris. I should specifiy that I'm specifically excluding European cities from my project.
My focus for now is on two cities: One new city in China, that is barely 15 years old, and Sydney, which as a metropolis is also fairly new. I want to record of course, but I also want to research how and whether architects and urban planners take sound into account, not just when designing buildings, but cities as well. Especially new cities.
It's very much about the senses again, because most of us perceive reality by vision mostly, and our ears quite often just supply the soundtrack to what we see. Any sound that doesn't fit with what we see is ignored or filtered. I'd like to throw that around, recalibrate the senses, if you want.
Listen first, and then look.
This underground church is located 8 km outside the town of Coober Pedy, deep in South Australia, roughly 847 km from Adelaide, or 2088 km from Sydney.


To call both locations remote, is an understatement.

The town has a population of 1695 and average summer temperatures around 34˚C. The highest temperature recorded was 47,8˚C.


To call this place hot is an understatement.

The church no longer has an active parish. Only tourists visit, and because of the heat, not many tourists travel through this part of Australia in summer.


To call this church empty is an understatement.


I originally intended to record the empty quiet of the church interior, but when I first got there the wind outside was audible in the sub frequencies inside. So I changed my idea, placed a stereo microphone between two candles and recorded the entire process of both candles burning.
For good measure, I let the recording continue for another half hour after both candles had burnt up. All in all that makes for almost three hours of Static.


Recorded December 20, 2011, in the afternoon.

Released on Very Quiet records Static

Available Editions:
digital album




CREDITS
Genesis (I, II, III) Concept, scenario & direction: Thomas Ryckewaert
With: Eleanor Campbell, Lieven Demecheleer, Emma Polen, Diane Reiners, Sid Van Oerle, Robbe Vergauwen, Silke Verslype | Setdesign and Costumes: Bert Gillet | Soundtrack: Peter Lenaerts | Sound Technician: Carlos Senraromero | Light: Luc Schaltin | Dramaturgy: Marnix Rummens | Assistance direction: Tineke De Meyer
Production: Margarita Production | Coproduction: Vooruit, Théâtre de la Balsamine In cooperation with STUK, BUDA, WP Zimmer | With the support of: De Vlaamse Overheid, Provincie Antwerpen

http://www.hiros.be/en/projects/detail/genesis-i-ii-iii
Private rooms and public spaces.

A selection of recordings of restrooms.

Fear not, listener, there's nothing smelly here. The focus is not on what usually happens in restrooms, but on the quiet stillness of the room itself, and how it speaks out and resonates in murmurs and hums, in buzzing and whirring. The public space outside never fully disappears, but echoes softly and quietly through the walls. It's solitary and private, secluded and isolated. Lock the door, sit down, relax, and retreat.

Recorded between October 2009 and February 2010 in Australia & Belgium.



RELEASED ON SURFACENOISE RECORDINGS
AVAILABLE EDITIONS:
digital album
limited edition cd-r




Quiet, emptiness, and silence.

What do we hear when there's nothing to listen to?
What do we listen to when there's nothing to hear?

Sound artist Peter Lenaerts went to the Australian desert hoping to find nothing. From Adelaide in the south to Darwin in the north, he travelled 3000km hoping to hear nothing.

The first part of this album - Postcards - is part road trip, part audio documentary: rest stops and roadhouses, homesteads and small settlements; an old cemetery and abandoned telegraph station; radio reports and a sunrise at the rock in Uluru. The second part - Stills - is almost 20 minutes of near silence, or an attempt at capturing the absence of sound.

"When you escape to a desert, the silence screams in your ear."

Recorded 8-12 February, 2010 in South Australia & 29 July-4 August, 2010 in The Northern Territory.
With the support of the Flemish authorities and Critical Path, Sydney. Thanks to Amber Ma, Manon Santkin, Ezra Eeman.




RELEASED ON SURFACENOISE RECORDINGS
AVAILABLE EDITIONS:
digital album
limited edition cd-r




Sound artist Peter Lenaerts has been obsessed with silence for years. Not as absence of sound, but as space. Space in which sound happens. In December 2011 he travelled to Australia's arid and desolate center in pursuit of the emptiness and nothingness he'd experienced there the year before. A search that was doomed to fail. For silence does not exist. And even if it does, it can not be recorded. Or if it could, it can not be replayed. Or can it?

Concept & Sound Recordings: Peter Lenaerts
Camera & Documentary: Ezra Eeman

Supported by Flanders Audiovisual Fund, Workspace Brussels, Luc Eeman, Tosa Machine

QUIES is a performance, a documentary, an installation and a CD.

More info about each version here:

http://www.surfacenoise.be/quies_performance
http://www.surfacenoise.be/quies_film
http://veryquietrecords.blogspot.co.uk

Welcome Home is a film by Belgian director Tom Heene.

It had its world premiere at the 2012 Venice Film Festival (Critics week).

Music written, recorded & produced by Peter Lenaerts

Musicians:
Ephraïm Cielen - Drums, Piano Bert Lenaerts - Bass Peter Lenaerts- Baritone Guitar, Sine Waves, Piano, Rhodes Youri Van Uffelen - Guitar

Click image to listen.


RELEASED ON SURFACENOISE RECORDINGS
AVAILABLE EDITIONS:
digital album



Quies. PETER LENAERTS 
(Very Quiet Records 2013)

Review by Chris Whitehead
As a boy I remember going down with a bunch of schoolkids into one of the Blue John caverns deep beneath the Derbyshire hills. The guide said "we're now going to turn out all the lights and I want you all to be silent, then you will experience absolute darkness and silence for the first time in your lives." When the lights went out it was indeed absolute darkness. There was no light at all and my visual brain sensors went into shutdown. However, it didn't work with the silence. People carried on breathing (thankfully) and clothing rustled. You could hear your own heart beating.
This experience stayed with me and influenced the way I listened to things from thence forward. It seems our brains recalibrate how we listen according to the circumstances, a kind of gain control. Maybe real silence does exist somewhere, but we can never go there to hear it. Our very presence in a place creates sound. Our intrusion destroys silence. Our recording equipment makes noise and there is always air. Whatever we do, we disturb the air.
Quies by Peter Lenaerts is not a search for silence in an academic sense. It is not an inquiry into how little can be put onto a digital recording or how thin you can spread things before they vanish altogether. It is in fact an evocation of place, albeit a very quiet, very large place. The quietness is not the kind you achieve by sticking earplugs in and closing things down, it is entirely the opposite: It is an opening up and a surrendering to the huge expansive emptiness of the desert.
As Lenaerts points out in an interview about Quies "Looking for silence was never the goal. For me it is more about the sound of the world around me, and the experiences it evokes. About developing awareness for it. We live in a world that is dominated by the visual. We are barely conscious of our own auditory perception."
Because of the somewhat noisy nature of the domestic surroundings, I chose to listen to Quies on headphones late at night with the rest of the family in bed and just a single small light on. Lenaerts says he is interested in the CD format as a curiosity, where people are not necessarily expected to listen to the disc in its entirety.
Even so, the longer these tracks go on, the more your sense of hearing becomes calibrated to the sounds and the space encoded therein. Without doubt these things take time, and then a kind of confluence takes place between your own and the artist's wavelengths.

Suddenly you see the never ending sand stretching out to the horizon, the baked desert air and the searing sun. There is some life out here as every now and then a bird calls from a far off place or an insect buzzes close by. Lanearts chose to either carry the microphones in his hand or wear them on his head (as opposed to simply leaving them out in the field and retrieving them later). Sometimes I think I hear evidence of the artist: Maybe a rustle, maybe a click.
This placing of the artist firmly in the environment adds the human aspect. This is exactly what Peter Lenaerts wanted you to experience and not a random recording from a static microphone in a desert. He makes the different locations which constitute Quies explicit in their characteristic atmospheres, subtle differences in an environment many may think of as uniform.
Wind blows across the expanse of Lake Torrens, a dry salt lake that has only been filled with water once in the last 150 years. In the ghost town of Farina the remains of the houses stand testament to man's vain hope. In the past a railway connected this place to civilisation, but the rains never came, the crops never grew. In Andamooka cemetery the headstones seem an integral part of the desert with only the brass plaques jarring as they glint amongst the sand and stones. In the far distance a dog barks.
These are the places we are transported to and left in. Spaces that open out and extend. Dryness can be felt as a presence. We can share Lenaerts' uneasiness on being confronted with the frightening, unnatural quietness. We live in a society where many people feel anxious if there is no radio playing in the background, a society that has gravitated away from silence. The desert is the antithesis of modern consciousness. We fill our minds, our days, our lives with input. The seas of sand remain impassive.
I've just listened to Quies again and I'm in danger of becoming a bit obsessed. Also I'm drinking a lot more water than usual.

Very Quiet Records is pleased to announce its fourth release: "Quies" by Peter Lenaerts. 

"When you escape to a desert the silence shouts in your ear" 
(Graham Greene)

As Peter describes "You are confronted with yourself in these places. Silence is often seen as something soothing, but it is also frightening. It feels unnatural, especially for modern man. We constantly produce sound. In the desert there is no auditory or visual distraction. It is 40 degrees, day in day out. There is no one to talk to. You are hundreds of kilometres away from the nearest village or gas station. There is nothing romantic or idyllic about such an environment. After three days I was suffering from desert madness. You realise that the quietness you hear means that there is really nobody or nothing out there." 

Available from the Very Quiet Records website:
http://veryquietrecords.blogspot.co.uk/2013/01/quies-by-peter-lenaerts-released-today.html


Recorded along the Oodnadatta Track in South Australia, December 11-21, 2011, the disc documents the quiet of a desert. 

Funded by The Flanders Audiovisual Fund (VAF) and Workspace Brussels.
With the support of the Flemish Authorities and Critical Path, Sydney.

Thank you Ezra Eeman, Guillaume Graux, Audiosense, Elly Gabriels, Patti Nicholson, Manon Santkin, and Amber Ma.

For Esper & Mieke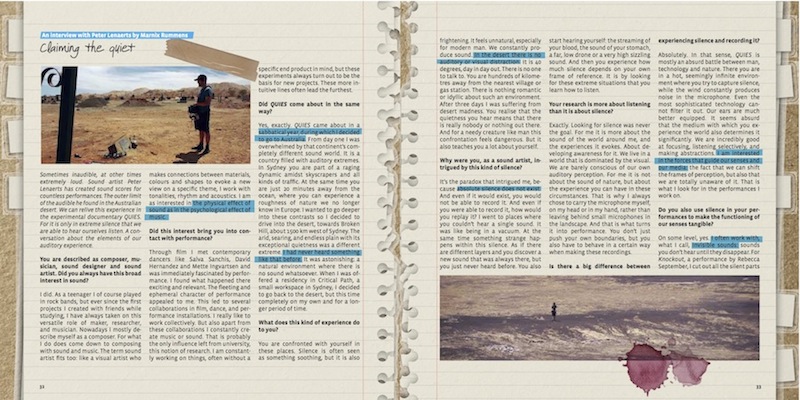 source: Working Title Festival #05 Field Notes
'Welcome Home' shows three significant moments in the life of Lila, a young woman in search of identity. She is the common thread between the three men she meets in a day. The film is a sharp love letter to Brussels, a European Babylon with coming and going inhabitants, affected by the constant transformation of it's urbanism and buildings.

Credits
Director: Tom Heene
Cast: Manah Depauw, Kurt Vandendriessche, Nader Farman, Felipe Mafasoli
Cinematography: Fred Noirhomme | Editing: David Verdurme
Music: Peter Lenaerts | Sound : Jean-Luc Audy, Julie Brenta, Alexander Davidson, Renaud Guillaumin & Benoit Biral
Production: Minds Meet & La Parti In association with: Alea Jacta & Stempel | With the support of: Flanders Audiovisual Fund, Flanders Image, Centre du Cinéma et de l'Audiovisuel de la Communauté Française de Belgique & de VOO Belgium

www.welcomehomethefilm.eu

Acoustics, architecture, and piano.

Instant compositions scored in real-time in one uninterrupted movement through different rooms and spaces.

A piano player improvises in an empty room. Over time the recordist travels around and away from the piano and explores first the space, then the adjacent rooms and floors of the building. While the pianist plays with the acoustics and reverberation of the room, his playing is further shaped and transformed by how the recordist uses the different rooms and their features. The architecture becomes an editing device that changes the texture and quality of the recordings continuously.

#1 Nicolas Couturier (piano) Manon Santkin (recordist)
recorded in PAF, St-Erme, in April 2010

#2 Simon James Phillips (piano) Peter Lenaerts (recordist)
recorded in Podewil, Berlin during Tanz im August 2008

Thanks to Kerstin Schroth



RELEASED ON SURFACENOISE RECORDINGS
AVAILABLE EDITIONS:
digital album








ABOUT THE MUSIC:
It all started with a field recording of the cemetery in Chillagoe, a small, almost ghost town in the tropical north of Australia. All you can hear is wind, the odd bird and two cars. Apart from that, the recording is virtually quiet and empty. Dead, as it were.
(...)




ABOUT THE PIECE:
NOW H E R E is a dance quartet that puts forward the idea of absence as its main generator.
(...)




CREDITS:
Choreography: Salva Sanchis
Music: Peter Lenaerts
Recording musicians: Simon Bauer (double bass), Brendan Dougherty (drums), Guido Henneboehl (electronics), Nils Ostendorf (trumpet)
(...)




NOW H E R E has been performed in Brussels, Antwerp, Leuven, Tongeren.



LINKS:
SALVA SANCHIS
registration of entire piece






ABOUT THE SOUND DESIGN:
The set consists of several big inflatables "powered" by loud industrial wind machines, controlled in their turn by dimmers and faders. As these rev up and fill the inflatables with air, the space gets louder and louder. Alongside this acoustic racket, a score consisting of recordings of the same wind machines and a composition of sub frequency drones and high pitch sine waves play out.
For the second part, Hooting the Blues is time - & tempo stretched, mimicking the movements and actions of the performers trying to keep their balance on a big air castle.




ABOUT THE PIECE:
With three cowboys and a gigantic inflatable set, The Host asks what the status of the individual is when his environment can no longer be conquered and controlled, when the individual is weak in comparison to the power of nature to turn against him.




CREDITS:
Concept: Andros Zins-Browne | Sounddesign: Peter Lenaerts
(...)




THE HOST has been performed in Kortrijk, Berlin, Brussels, Helsinki, Amsterdam, Bochum, Dusseldorf, Essen, Leuven, Antwerp, Uppsala, Malmo




LINKS:
ANDROS ZINS-BROWNE

Your browser does not support the video tag.




Your browser does not support the video tag.

[As most of the piece happens in the dark, there's no video registration.]




ABOUT THE SOUNDDESIGN:
The audience is immersed in a series of sensations and experiences created by sound, light, smell and touch.




ABOUT THE PIECE:
Undertone is a choreography that focuses on the potentials of sensory perception of the audience. Stemming from the interest to challenge spectatorship and destabilize the convention of watching performance, Undertone invites the audience to participate in an orchestration of fictional spaces. The performance prioritizes mechanisms of perception other than vision by proposing an immersive experience of different kinds of stimuli. In Undertone, the body of the audience members is considered in all its potentiality to sense and navigate within an environment composed of a large spectrum of sensory movements such as tastes, sounds, smells, temperature fluctuations, touches, and ephemeral scenographies.




CREDITS:
Concept: Sidney Leoni | Sounddesign: Peter Lenaerts
(...)




THE HOST has been performed in Stockholm, Goteborg, Berlin, Dusseldorf, Bucharest, Antwerp, Oslo

Your browser does not support the video tag.

ABOUT THE MUSIC & SOUNDDESIGN:
I became obsessed with sine waves during the creation of this piece, and that obsession hasn't worn off yet. Also created a sound sculpture that consisted of over a hundred small earphones all strung together and suspended above the audience.

ABOUT THE PIECE:
Through movement and speech, sensations become collective as the performers imagine – for example – (...)

CREDITS:
Choreography & concept: Alice Chauchat
Music & sounddesign: Peter Lenaerts
(...)

COLLECTIVE SENSATIONS was performed at Tanz im August in Berlin

Your browser does not support the video tag.




Your browser does not support the video tag.

ABOUT THE SOUNDDESIGN:
The audience is asked to wear earplugs for the entire length of the performance. In the first place as protection for certain loud moments of microphone feedback, but even more as a tool to change their perception. Some actions on stage are prerecorded, other amplified live, and because of the earplugs this line between real and artificial disappears. The earworm piece of music that runs through the piece is an arrangement of Erik Satie's Vexations I created for baritone guitar (excerpt 1). The second excerpt is a composition for sine waves.




ABOUT THE PIECE:
Reality and appearance form a mischievous duo. What if appearances not only refer to reality, but actually become our reality?
(...)




CREDITS:
Choreography: Salva Sanchis
Music & Sounddesign: Peter Lenaerts
(...)




OBJECTS IN MIRROR ARE CLOSER THAN THEY APPEAR has been performed in Budapest, Brussels, Barcelona, Antwerp, Tongeren, Santiago de Compostela, Strombeek, Brugge, Leuven, Lisbon, Waregem.





LINKS:
salva sanchis

Your browser does not support the video tag.

ABOUT THE SOUNDDESIGN:
The score for SECOND LIFE consists of a new age cover of Forever Young (Excerpt 2) and a score made up of the instructions that guide the elderly performers throughout the performance.




ABOUT THE PIECE:
Second Life presents the idea/l of a utopic community in two parts. The first, the virtual world of online communities such as Second Life, and the second a kind of futuristic retirement community, populated by elderly amateur performers 70 years and older.
The performance takes off from the consideration that the real world utopias (cruise ships, artificial private islands, gated communities) and those of the virtual worlds, exist on two sides of an ever-disappearing interface- where the real becomes more virtual, and the virtual more and more real. Whereas the first is primarily directed towards the elderly, the latter owes its existence to young gamers. (...)




CREDITS:
Concept: Andros Zins-Browne
Music & Sounddesign: Peter Lenaerts
(...)




SECOND LIFE has been performed in Brussels, Leuven, Essen.





LINKS:
ANDROS ZINS-BROWNE

and then
music & sounddesign for performance
added 26.03.11




ABOUT THE SOUND DESIGN:
AND THEN is part film, part live performance and happens on a stage where the two blur into each other thanks to the light and sounddesign. There's two pieces of music in the performance: a cover of Gloomy Sunday (excerpt 1) and an original composition called Past (excerpt 2)




ABOUT THE PIECE:
Imagine you pick up a photo album in the street. You open it and see people you don't know: pictures of holidays, familiar poses and gestures, faces of strangers smiling at you as if you were a relative or close friend who was meant to see the photos.
(...)




CREDITS:
Concept: Eszter Salamon | Music & sounddesign: Peter Lenaerts | Recording musicians: Ephi Cielen (drums), Peter Lenaerts (baritone guitars), Eszter Salamon (vocals), Yuri Van Uffelen (guitars), Teun Verbruggen (drums)
(...)




AND THEN has been performed in Lyon, Brussels, Essen, Lausanne, Berlin, Paris, Vienna, Hannover, Koln, Porto, Lille, Budapest, St-Brieux





LINKS:
eszter salamon
trailer

Your browser does not support the video tag.




Your browser does not support the video tag.

ABOUT THE PIECE:
"A dreary night in Rome, on the soundtrack the click of a cigarette lighter, the sound of smoke being inhaled. A woman in a long raincoat with a platinum blond wig lounging on a street corner. It could not be more typically film noir. These few details hint at a world of seduction and betrayal, of double moral standards and romantic cynicism.
It is precisely from this twilight zone that choreographer Ula Sickle, sound designer Peter Lenaerts and visual artist Alexis Destoop drew inspiration for their first collaboration, Knockout.
Knockout could very well be a choreographed variant of David Lynch's Mulholland Drive; an out of joint montage of constructed fantasies, desires and expectations."

Elke Van Campenhout (translated by Tom Hannes)




CREDITS:
Concept: Alexis Destoop, Peter Lenaerts & Ula Sickle | Music & sounddesign: Peter Lenaerts | Recording musicians: Ephi Cielen (drums), Bert Lenaerts (bass), Peter Lenaerts (baritone guitars), Yuri Van Uffelen (guitars)
(...)




KNOCKOUT was performed in Antwerp, Aalst, Kortrijk, Essen, Amsterdam, Brugge.




LINKS:
ula sickle
clip 1
clip 2

all rights reserved© 2005-2011

¡